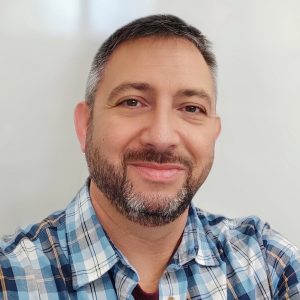 Degree in Fine Art
CELTA qualified
20 years teaching experience
Where are you from?
I'm from a city called Chester, which is in the North West of England, but have lived in Spain since 2001.
What's your favourite music?
Alternative rock and rap mainly from the 90's.
What's your favourite book? 
My favourite book is 'The Secret History' by Donna Tartt. I read it at university and lent it to a friend at the end of the first year. When I went to ask for it a few weeks later, apparently four people had read it one after the other!
What do you miss most about your home? 
Apart from family and friends I miss my city and hearing people speaking with an accent from the north of England.
What sports do you like?
I used to enjoy playing squash and badminton when I lived in the UK, and have played some padel here in Spain.
What's your favourite Spanish food?
All 'embutidos'!
What do you like about living in Pamplona?
I haven't lived in Pamplona for very long but everyone I've met seems very friendly and polite, and the city is very clean.
What was your favourite film when you were a kid?
Probably 'Star Wars'. When I was little I had a friend who had it on video, and I used to ask to watch it every time I went to her house. She wanted to watch 'Grease', but I always won!