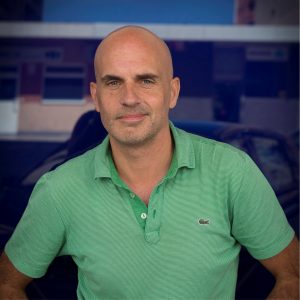 Nicholas Darvill
BA Honours Degree in Drama & Film.
PGCE in Primary Education.
CELTA
10 years teaching experience
Where are you from?
I have lived all over the south of England. However, places I spent most time in are the beautiful cities of Oxford (as a child) and then the city of Bath (as an adolescent). Both are very beautiful places and hold special memories.
What sports do you like?
I am not a big sports fan. However, I have been a passionate follower of Motorsport especially F1, ever since my father took me to Brands-hatch when I was 9, and I saw Nigel Mansell win his first race. Also, although not a domestic football fan, I can become a bit of a "Chaquetero" and get very excited when my national team get through to the Semi Finals, before being quickly disappointed once again. (Like this year).
What do you like to do in your spare time?
With a family, a wife and two young daughters, most of my time spent with them exploring and visiting different places around Spain or the South of France.  However, when I get the chance, I like to get my camera bodies and lens out and do a bit of photography.
What do you miss most about home?
Although, the food is spectacular in Spain on the night of Christmas Eve, with lobster, smoke Salmon and sirloin steak etc.  I miss Christmas at home and catching up with my father and siblings whilst eating Turkey and pulling crackers.
What is your favourite Spanish food?
You can't beat fideos con bogavante with a glass of Txakoli. This is especially the case, if it is my first evening on holiday with my family, in Cala Galdena Menorca whilst watching the sun set over the Mediterranean Sea (like this year).