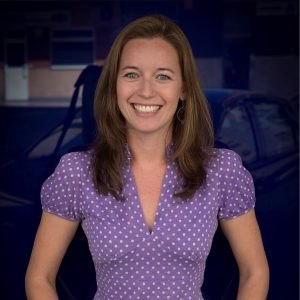 Emma Ketley
BSc. (Hons,) Experimental Psychology.
PGCEi )University of Nottingham.
Cambridge International ESL teachers conference.
Member of Cambridge Advisory Pane.
CELTA qualified.
9 years experiece teaching English.
Where are you from?
I'm from Chiswick in west London.
Do you have any brothers or sisters?
I have a sister who is five years older than me. We're really close. She lives in Plymouth in the south-west of England with her husband and their four-year-old daughter, Jessica.
What are some of your interests?
My greatest passions are travel, food and music so I love doing anything in my free time that involves any of them!
What's your favourite food?
Curry laksa or some other kind of Asian noodle dish. My dad grew up in Singapore so I've adopted his taste for spicy cuisine and food in general! I'm very excited to try out all the pinxtos Pamplona has to offer.
Is there a country you have visited on your travels that really stands out?
Probably India. The varied landscape, the culture, the buildings and, of course, the curries, blew me away.
What kind of music do you like?
I listen to a wide range of music, from indie and rock to reggae and hip-hop. I love going to live concerts and music festivals.