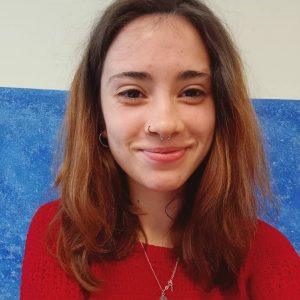 Nessa Beaumont O'Donovan
Honours degree in Political Science and Public Administration
Erasmus in Østfold University College, Halden, Norway
7 years teaching experience
Where are you from?
I grew up in Lekunberri, but my mother is from Cork, Ireland, so I'm a mix of both cultures. Mum has her own English school in our village. I speak Basque, Spanish and English, and I go to Ireland every year.
Do you have any brothers or sisters?
Yes I do! I have two sisters called Ciara (18) and Moira (11). I love chatting, listening to music, travelling and watching films with them. Ciara is studying History at college and Moira is currently doing her last year of Primary School.
What sports do you like?
I love climbing and hiking. I climbed my first 3000-metre summit this summer!
What are your hobbies?
I've started attending drama classes, and I'm delighted with them! I also enjoy drawing.
What sort of music do you like? Which bands and musicians do you listen to?
I mainly listen to indie, indie-folk and indie-rock; like Florence + The Machine, Daughter, Of Monsters and Men, Arcade Fire, Alt-J, Beirut, Phoebe Bridgers and London Grammar. But TeaMarr, Childish Gambino, Mala Rodriguez, Gata Cattana, Mura Masa and Flume are also my style.
What are your favourite films? 
Autumn de Wilde's adaptation of Emma, The Florida Project, Call Me By Your Name, Joe Wright's Anna Karenina and Atonement.
What is your favourite book?
La Mujer Habitada by Gioconda Belli
What is your favorite board game?
Dixit!