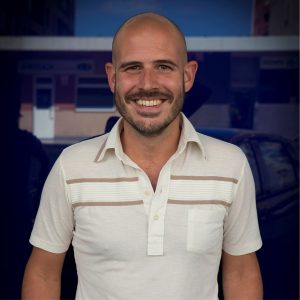 Robert Hurley
BA (Hons.) Degree Human Geography.
PGCEi University of Nottingham.
Cambridge Leadership in Schools.
Cambridge Exam Officer Training.
CELTA qualified.
9 years' experience teaching English.

FCE/B2 Course Director
Where are you from?
I grew up in a small village outside of Reading in the South of England.
Do you have any brothers or sisters?
Yes, I have two brothers and one sister, who are all older than me. My sister, Tamsin, is the eldest. She lives in England and works as a teacher. My older brother, Justin, is a carpenter and lives with his family in Portugal, while my other brother, Duncan, lives near New York and works in the wine industry.
What do you like doing in your free time?
Food is a passion of mine and I enjoy cooking nearly as much as I love eating! It's not always an easy hobby to do, but I love scuba diving and I try to go whenever I get the chance. When I have the time to relax, I love reading and listening to music or watching my local football team, Reading, lose.
What's your favourite music?
It depends on my mood or what I am doing. If I go for a run I like to listen to rock, hip-hop or something with a repetitive beat like drum & bass. At home, I usually listen to funk, soul or reggae.
What's your favourite book?
My favourite book is 'The Savage Detectives' by Roberto Bolaño.
What do you miss most about your home?
The people. I miss family and friends.
What was your favourite game when you were a kid?
I was Nintendo obsessed when I was a kid. I had a NES, SNES and N64 and was the undisputed king of Mario Kart.