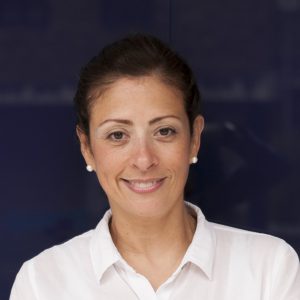 A.A. Tourism – Lancaster Community College (USA)
Former preschool teacher at Lancaster Day Care Center (USA)
Former  preschool teacher at Childtime Learning Center (USA)
23 years of experience.
Where are you from?
I'm Dominican/American, I grew up in Lancaster Pennsylvania but my family lives between the Big Apple (Go Yankees) and sunny Miami.
What do you like about Pamplona?
I love how Pamplona is such a green city, not only because of its literal green scenery but also because it's a bike friendly place.
Do you have any brothers or sisters?
Yes I do and I'm the oldest sibling! I have two sisters and three brothers. They all live in United States and I miss them very much.
What do you like doing in your free time?
I LOVE paddle tennis! I play at two clubs: Navarra Padel and Entrena Padel. I would like to compete more often and actually win for once; so far I've always lost!
What's your favorite food?
My favorite meal is Thanksgiving dinner… Mmmmmm!!!! Turkey, cranberry sauce but especially pumpkin pie!
What was your favorite game when you were a kid?
I was a very shy kid and I loved to play by myself and my dolls. I had and still have a very vivid imagination. When I played with other children I liked to play hide and seek. I also enjoyed playing jacks, if you don't what I'm talking about, here is a link https://youtu.be/XJ5HAtVjfuw
What's your favorite TV programme?
I love "I love Lucy!" and I also enjoy home improvement shows such as "Love it or List", "Property Brothers", "Income property" and "Home Makeover"… moooove that bus!!!!! (I actually went to see a taping of that show in Maryland)