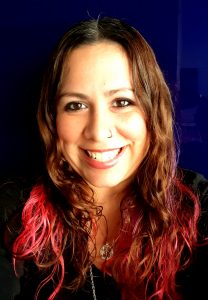 Course Director, Resident Researcher & Teacher
Ph.D. Student – UNAV (Spain)
M.Ed. Secondary Education – UNAV (Spain)
B.A. (Hons) Studio Art – Rollins College (U.S.A.)
CLIL qualified
CELTA Young Learners qualified
CELTA qualified 
Certificate of Introduction to Family Engagement in Education. Harvard Graduate School of Education.
16 years of experience 
Where are you from?
I was born in Venezuela, but I grew up in Central Florida. Right now Pamplona is home.
What do you like about Pamplona?
It is the perfect place to raise a family!
Do you have any brothers or sisters?
Yes, I have an older brother and two younger brothers. They all live across the Atlantic.
What do you like doing in your free time?
In my free time I am happy to engage in any art related activities, I enjoy researching random topics that spark my curiosity on the Internet and watching stand-up comedy specials. I also like laughing and smiling… a lot!
What sports do you like?
I love watching gymnastics! In all honesty I don't practice any sports myself, but I make sure to walk at least 10 thousend steps daily.
What's your favourite food?
Tomato, cucumber, green olive and mozzarella salad with a bit of hot sauce.
What was your favourite game when you were a kid?
Anything pretend or make believe!
What's your favourite English word?
My favourite word is creativity. I like catching it with my eye, pronouncing it, how it sounds… and all the layers of meaning to it.